Doctors & Staff
Meet the experienced and friendly doctors and staff who make Family Eye Care of Topeka the leading provider of vision care products and services in Topeka.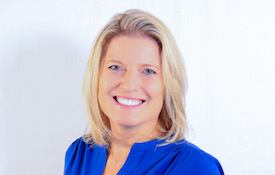 Dr. Rollenhagen earned her Bachelor of Science degree at Kansas State University, in Manhattan, Kansas in 1995. She graduated with honors obtaining her Doctorate in Optometry from the University of Missouri-St. Louis School of Optometry, in 1999. Her externship training included rotations in specialty contact lens fittings, ocular disease, and pediatrics. She has received the Contact Lens Clinical Research Award for clinical excellence in contact lenses and is a member of the American and Kansas Optometric Associations.
Dr. Rollenhagen has lived and practiced in Topeka since1999 and enjoys taking care of her long-time patients as well as meeting new ones. She considers each patient as a unique opportunity to improve someone's life not only through better vision, but also through individualized attention and care.
Dr. Rollenhagen enjoys spending time with her husband and three children attending sporting events and riding ATV's. She also has interests in fitness and health, nutrition, reading and photography.
---
Jessica Mai, O.D.
Dr. Mai, a native Kansan, received an interdisciplinary degree in biology, chemistry and business from Washburn University. She then attended the University of Missouri-St. Louis College of Optometry, where she graduated Summa Cum Laude and received the Clinical Excellence Award for her class as well as Outstanding Student Ambassador Award. Dr. Mai completed her specialty training at the Veteran's Administration Hospital in Kansas City where she got extensive training in the management of patients with glaucoma, macular degeneration and diabetes. In addition, she trained at Advanced Eye Care in Kansas City where she conducted contact lens research. Dr. Mai practiced at Genstler Eye Center in Topeka for 12 years prior to joining Family Eye Care.
Dr. Mai is board certified by the American Board of Optometry and is a member of the Kansas Optometric Association, the American Optometric Association, and the American Academy of Optometry. She has a passion for mission work and has had the privilege to be part of several optometric mission trips to underserved areas in Mexico and Honduras. Dr. Mai is excited to bring her services to Family Eyecare of Topeka and above all is committed to high-quality, compassionate eye care and taking excellent care of each one of her patients.
Dr. Mai lives in Topeka with her husband Clayton and two young boys. They enjoy biking, camping and cheering on the Chiefs!
---
Randal K. Dyck, O.D.
Dr. Dyck attended Kansas Sate University and the University of Houston College of Optometry where he graduated Magna Cum Laude. Dr. Dyck completed his specialty training at the Mann-Berkeley Eye Center and the University of Texas Hermann Eye Center where he conducted research in the area of physiological optics.
He then practiced for Grene Vision Group in the Wichita area for two years before starting his practice in Topeka in 1999.
Dr. Dyck is board certified with the Kansas State Board of Optometry, and has written numerous research articles and conducted many professional lectures. He is also certified in the treatment and management of ocular disease, certified in corneal refractive therapy, and received his therapeutic glaucoma license.
He is a member of the American Optometric Association and the Kansas Optometric Association.
"I enjoy the opportunity to help people on a daily basis. Preserving and enhancing the precious gift of sight through personalized quality eye care is very fulfilling."
A native Topekan, Dr. Dyck lives with his wife Brenda, and two children Morgan and Dylan.
---
Our caring staff is here to serve you!